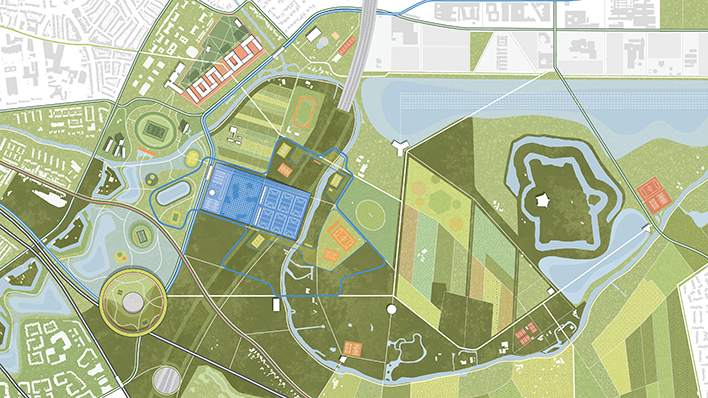 The first copy of the book 'City of the Future' was presented in Het Nieuwe Instituut in Rotterdam. A wonderful accomplishment after a year of examining the five largest cities in the Netherlands. Karres en Brands joined 'Team Fit' which took care of the eastern city edge of Utrecht as the assignment. Our study is called 'Fit for the Future' and is focusing on the smart, healthy and (climate-) adaptive city, with an accent on sports and activity.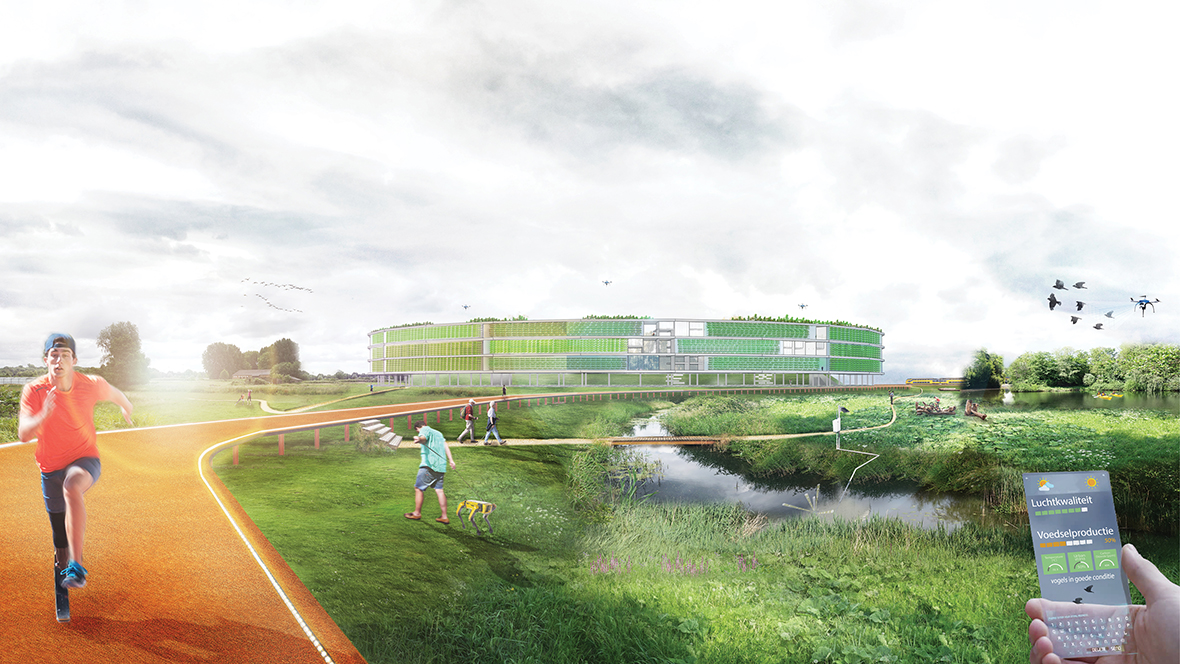 The eastern city edge of Utrecht is a heavily fragmented area with a large range of functions. Next to low-rise residential areas sports pitches, the stadium and city edge functions define the atmosphere. The multifaceted programme is splintered by large-scale infrastructure which has a great burden on accessibility, noise pollution and local air quality.
With the expanding city centre of Utrecht the edges, where city and country meet, offer the unique opportunity to create new urban character. The rural landscape around the fortifications of the Dutch Waterline provide space to innovative solutions for mobility and climate adaptation challenges. Smart combinations of urban and natural assignments will lead to multiple use of space. A wide-spread ecosystem serving as a climate buffer: Het Waterliniepark.
The park and the 'new fortifications' are brought together as a mobilityhub, connecting various modalities (local and (inter-)national), sports facilities, clustered housing and innovatory indoor farming, used for a substantial scope of urban farming. This food chain is emission free and a guarantee for new biodiversity in the city edge.
Next to Karres en Brands, Bas Horsting, Pinar Balat, Prisca Arosio, Daniel Casas Valle, Hugo van der Poel, Raoul Teekamp en Gertjan de Vries have worked on this research. You can order the book in the BNA shop and at Uitgeverij Blauwdruk. More info: https://www.bna.nl/onderzoeks-project/stad-van-de-toekomst/