The housing corporation Deutsche Wohnen is developing a new residential area in former military barracks for British soldiers in West Berlin. The more than 60-year-old homes are in poor condition, and because they aren't sufficiently energy efficient, renovation is not the best option. In collaboration with RAU and DFZ Architects, karres+brands developed a contemporary urban plan for the new construction, including both architecture and public space design.

Germany is undergoing two major demographic shifts. On one hand, the size of households is shrinking, but on the other, there is an increasing need for collectivity. This growing desire for social connection is translated into an urban design concept in which all levels of the socio-urban scale are represented, varying from the individual level (1), to the street (20), to the neighbourhood (200), to the district (600), to the city. Spatially, this means that both individuality (mix and diversity of typologies) and collectivity are represented in the plan (design of both architecture and residential blocks).

A big difference between the new plan and the current situation is that the density now needs to be four times higher. In the housing design, various types of housing are mixed in different blocks and equally spread across the area. This diverse yet balanced range of different-sized apartments, houses with gardens, terraces, loggias as well as shops, workshops, collective meeting spaces and facilities generates a very diverse composition of residents.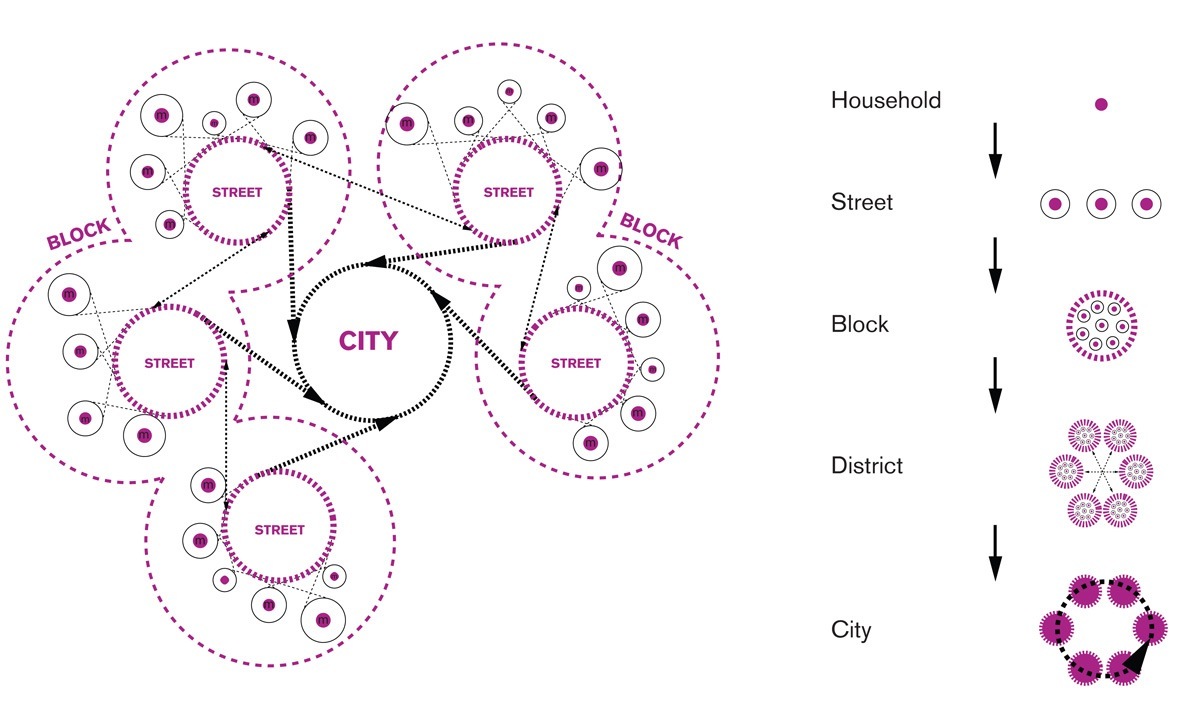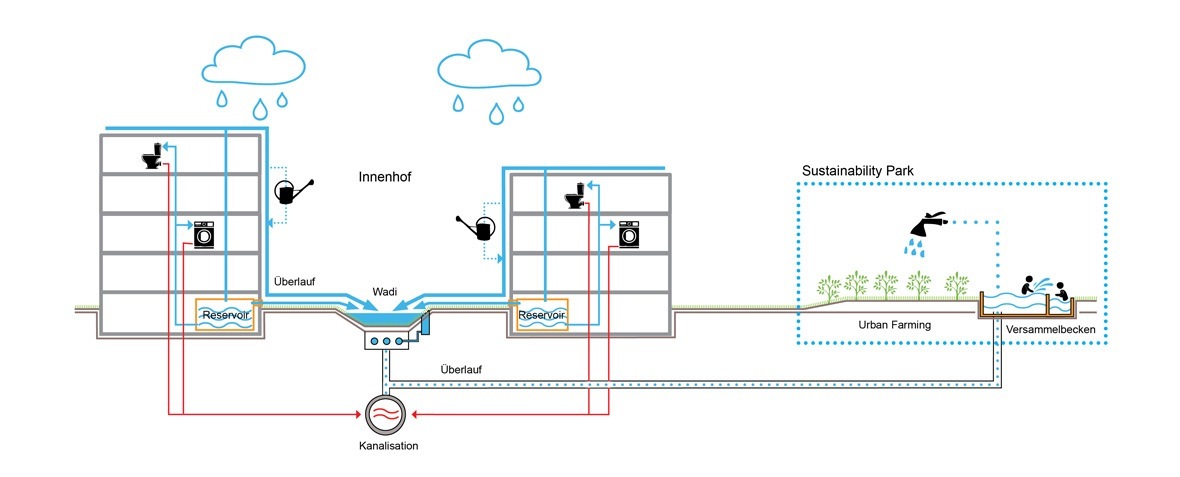 This social stratification is also reflected in the landscape design. Despite the dominating urban layout, the existing topography and many large trees offer subtle differences and housing clusters that are distinctive in relation to each other. Furthermore, each housing cluster has a communal courtyard with room for play, sport, urban agriculture and water infiltration. Private domains are marked off by topography, terraces and hedges. In the architectural design, visual cohesion and social security are ensured by the position of balconies, windows, loggias and terraces.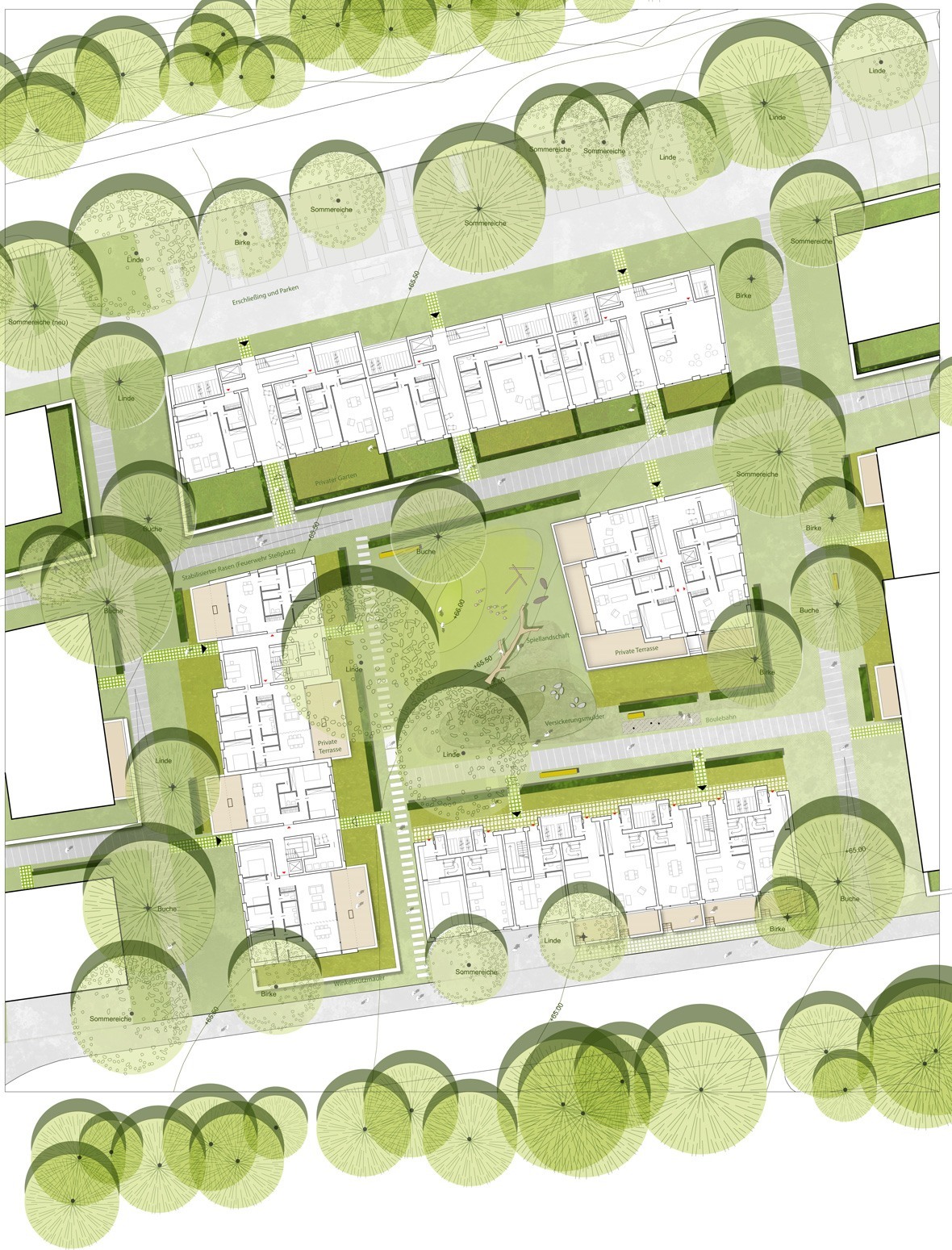 On an urban context scale, interweaving with the surrounding area is intended in three ways. Firstly, the typological designs take into account the possible addition of shops and communal functions, which could be of value not only to the district itself, but also to the surrounding areas. Secondly, there is a (market) square located in the west of the central planning area that connects the area with the surrounding areas and adjacent functions. This square and the eventual shops can be used by residents as well as hospital patients and visitors. Finally, a sustainability park is planned in the southeast, near the future daycare. This park allows for the practise of large-scale urban agriculture as well as the collection and purification of rainwater. Given the central location of the park, between the plan area and the adjacent districts, a connection with the surrounding areas is expressly sought after - both spatially and socially.