Based on the Green Singel image quality plan that had already been drawn up, karres+brands worked together with Maxwan and Antea Group to create an area analysis and draft design for Antwerp's South Junction. Located to the south of the highway ring, South Junction, also known as the "spaghetti junction", connects the R1 with the A12 and the Leien. With its many raised entry and exit ramps, the South Junction currently occupies a large open space on the Antwerp city map. Advancements in safety, regulation, environmental protection and urban development call for a reinterpretation of the South Junction and its spatial integration.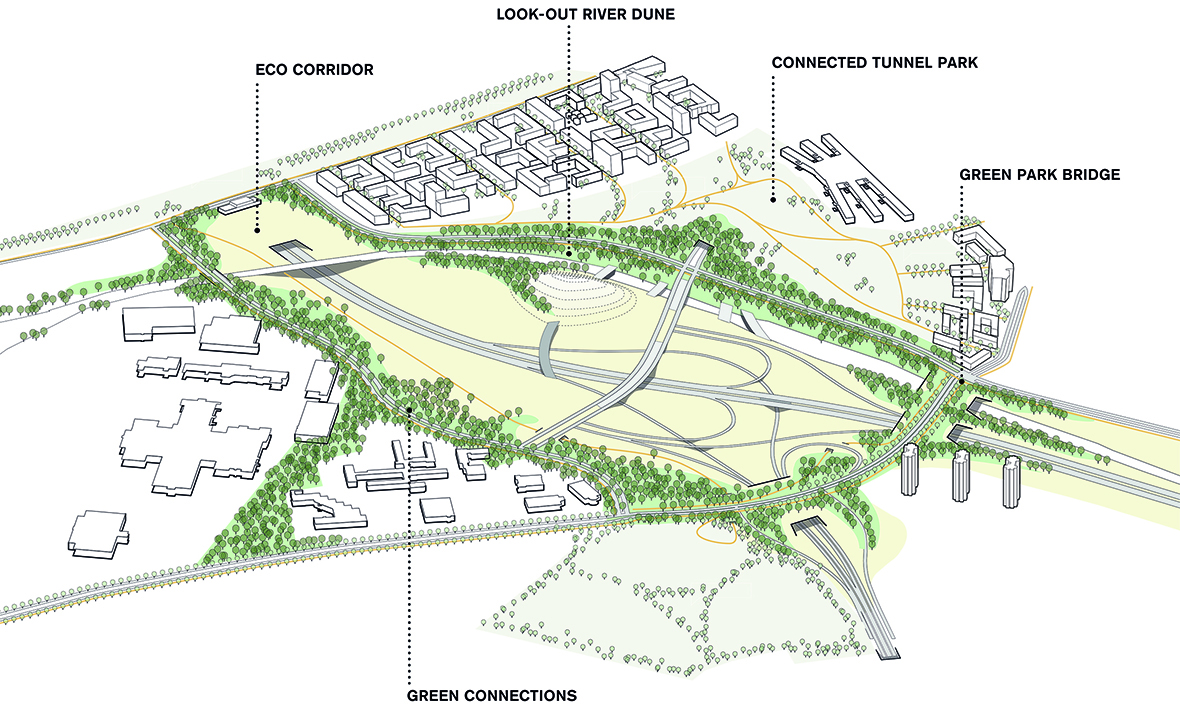 Numerous plans are underway in bordering areas that will influence the traffic junction's future use. Short- and long-term plans include the implementation of the New South Master Plan, Blue Gate Antwerp, the re-structuring of the Emiel Vloorstraat site, the Kaaien renovation and the start of other small projects.
The area analysis establishes how the South Junction landscape can function as a hinge point where all developments come together and connect. Not only in terms of mobility, but also from a spatial, ecological and landscape perspective, the goal is to situate the various developments in a larger framework that can be adapted as necessary.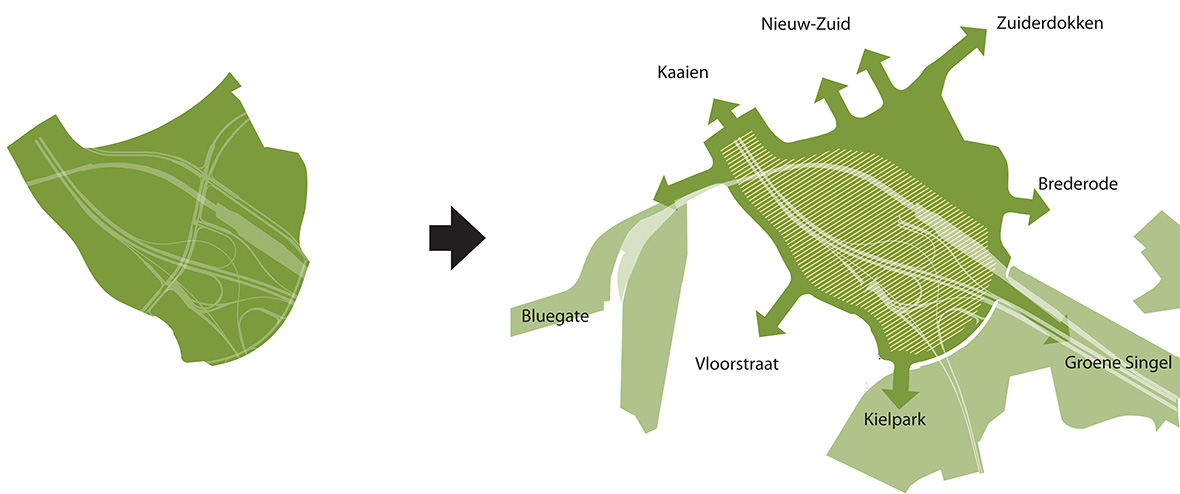 The design focuses on the accessibility and usability of the South Junction's roadside landscape, and, in particular, to the recognisability of the river dune landscape within the Green Singel. Bridges and viaducts branching off the reconstruction serve as crossings for bicycles, pedestrians and wildlife, thus increasing the South Junction's recreational and ecological connectivity. On the urban side, the New South's Wadi Park will be connected to Konijnenwei via an iconic park bridge, creating a new continuous park area that can relieve the recreational pressure built up in the city centre. In addition to event and park space, South Junction will also provide a buffer for water collection, particulate matter and noise from the city centre and motorway.
The arid, relief-rich landscape of the river dunes provides a recognizable layout for South Junction. The recognisability is also enhanced by striking accent plants and the design of a new, 21-metre high dune that forms the final piece of the Green Singel. The edges of South Junction are predominantly planted with gorse bushes. In the spring, they burst into bloom with exuberant yellow flowers, "lighting up" the South Junction once a year. The bushes also attract insects such as bees and butterflies. What's more, by strategically placing follies, benches and vistas in the landscape, South Junction is transformed into a unique destination for hikers and adventurers looking to explore the roadside landscape.