The Vivaldi Rooftop Park on top of the Breevast headquarters in Amsterdam was designed by karres+brands in collaboration with the green roof specialists at Dakdokters. Together, we transformed a dull, inaccessible gravel rooftop into a colourful, inviting rooftop park. At approximately 2000m2, it is one of the largest rooftop parks in Amsterdam Zuid.
karres+brands was responsible for the project's design and landscaping plan, whereas Dakdokters supported its technical development, architectural testing and the implementation of Polder Roof® technology into the design. This ingenious green roof system collects and stores rainwater to be used for rooftop plants, and any surplus water can be gradually phased into the rainwater drainage system.
Another important design feature is the roof's 150-meter-long path, whose varying widths give way to spacious areas where people can gather and relax. Designed to take full advantage of the sun, these areas provide users with outdoor meeting areas and a place where office workers can enjoy a little stroll and a breath of fresh air. The choice of plants also plays an important role in the park's design. Ornamental grasses are interspersed among blue-grey perennials, ensuring a rich variety of colour and texture. The seasonal characteristics and staggered flowering periods of the various plants highlight the four seasons, so users can enjoy the roof year-round. Through the creative management of substrate thickness, we were able to integrate a diverse array of plants and even create space for several trees. Certain plants have been specifically chosen to attract bees and other insects. Thanks to the Polder Roof® system, the rooftop garden stays green even in the driest of seasons: a lush oasis in the busy, concrete-intensive environment of Amsterdam Zuid.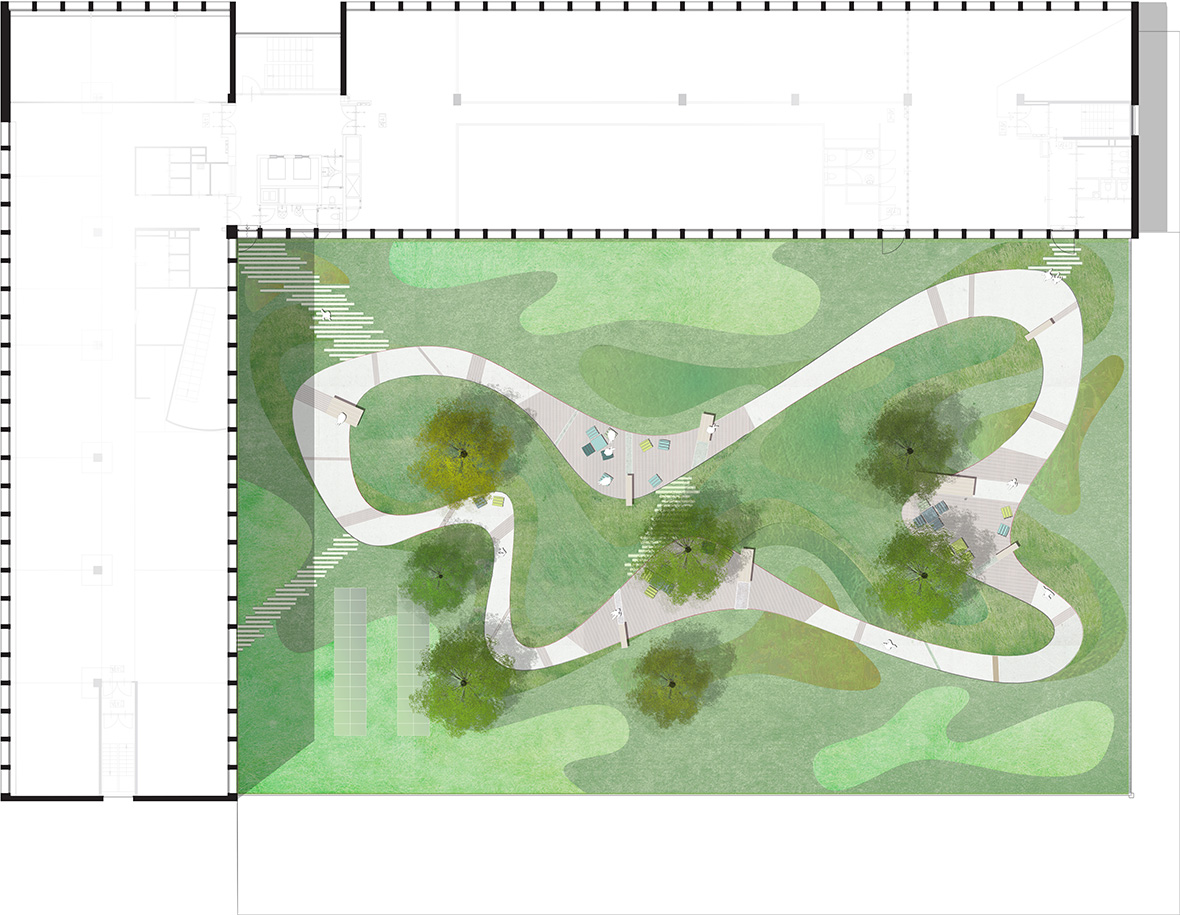 The Vivaldi Rooftop Park was opened on 13 July 2017 by Alderperson Abdeluheb Choho, who enthusiastically installed a bee hotel. Not only does the project provide an attractive outdoor space for office employees, it also contributes to the sustainable development of a greener living environment and the preservation of the ecosystem.