The University of Cologne is one of the oldest universities in Central Europe, and also one of the largest universities in Germany, with over 40,000 students. The central campus no longer meets today's requirements: in addition to the renovation of the main building, the lecture halls and the 'Philosophikum', the Albertus-Magnus-Platz will also be adapted—creating a joint 'University Forum'. The submission by karres+brands and Toponauten takes the stimulation of intensive and personal contact between campus users as its primary motif, grafted upon the present historical layers.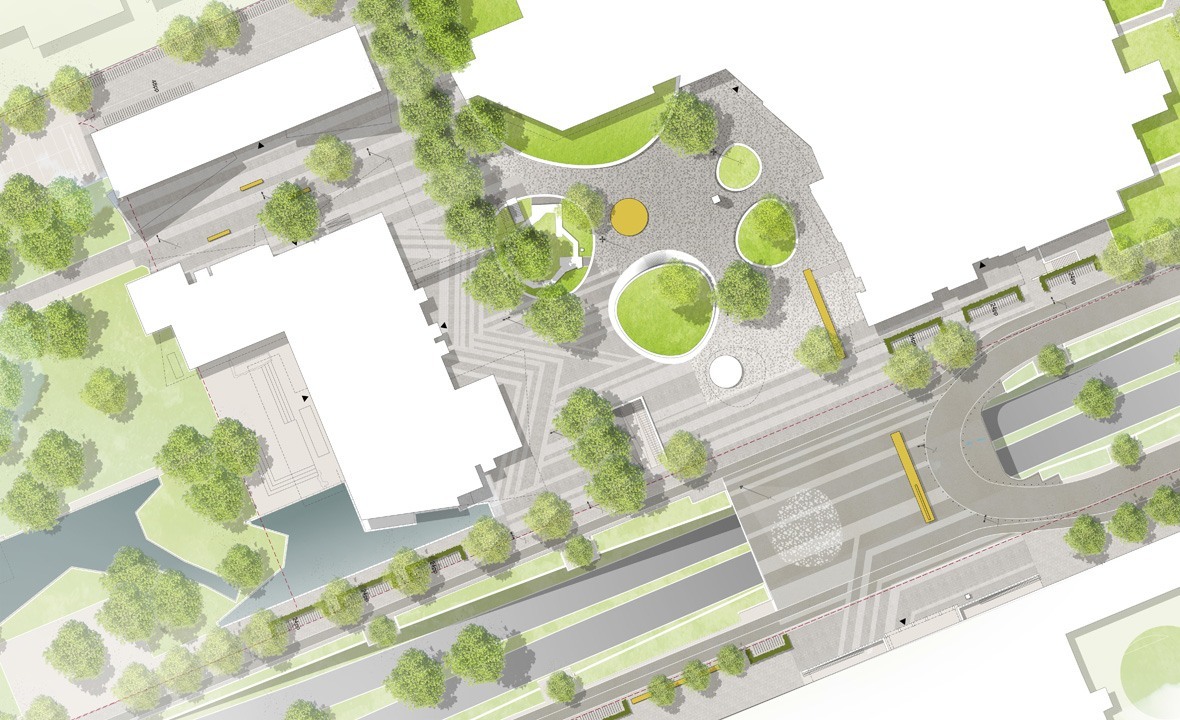 In the current situation, the Albertus-Magnus-Platz is characterised by a lack of openness, and is a public space that has become seriously degraded over time. Because of chaotic interventions in the past, the original design of the square has diminished considerably in quality. The design by karres+brands provides a Forum with a wide variety of differentiated yet simultaneously interconnected spaces. It is a public space that stimulates conscious and unplanned interaction between students, professors, staff members, and perhaps even local residents and employees of the adjacent hospital. The Forum will be the heart of a vibrant campus where education, research, housing, leisure, and encounter go hand in hand. In the design, the existing public spaces, the Albertus-Magnus-Platz, and the Forum will become a coherent space: the Albertus Magnus Forum.

The distinctive pattern of the pavement between the lecture halls and the main building is taken as the basis for the formal and design language of the new areas that will be laid out. The pattern of the lecture hall will be restored, while the pavement's ornamentation outside the heritage-listed building will be reinterpreted in a fresh way. The characteristic lines will be reproduced on the deck above the road tunnel, with different colours and textures of asphalt. The Forum will receive a grained pavement, one that subtly distinguishes itself from the rest of the Central Campus.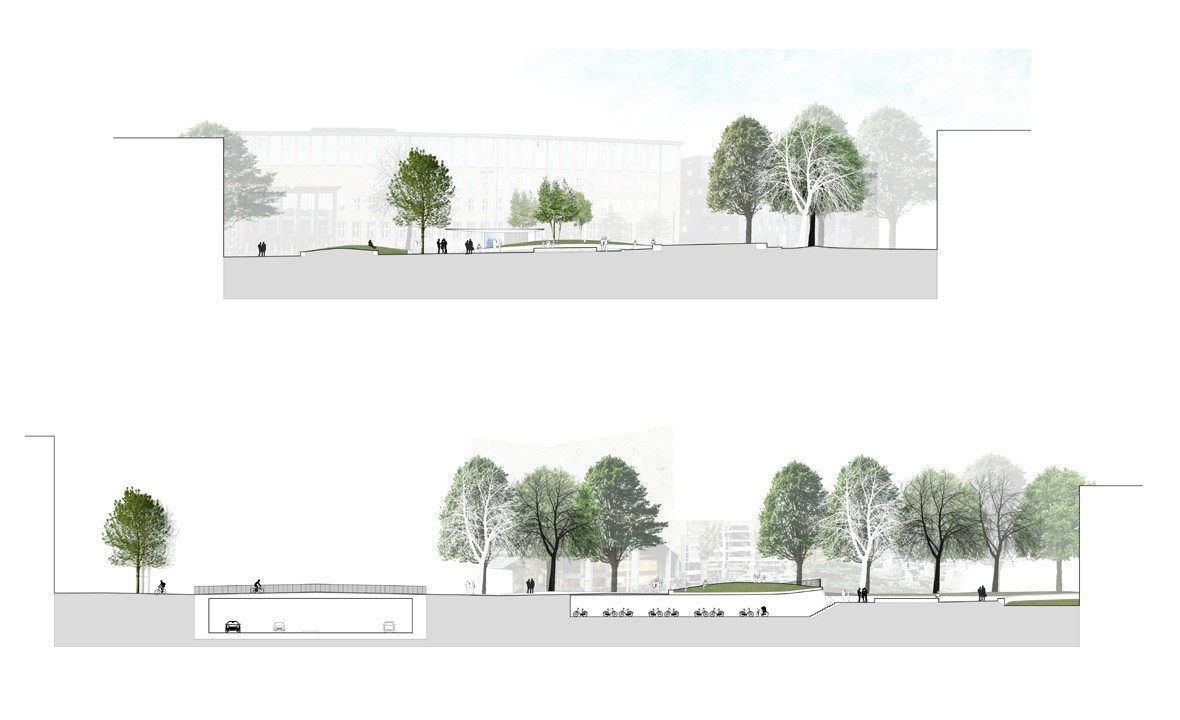 On the square itself, 'green islands' define the space of the Forum without impeding the pedestrian links on a larger scale. Movement on the square is fluidly and effortlessly regulated by the composition of these islands. The islands' low vegetation and grassy areas emphasise the friendly and welcoming nature of the square: people can sit on its edges, while the lawns are perfect for a summer picnic. Moreover, the existing monumental green island is integrated into the new design as an archaeological relic—accessible to everyone.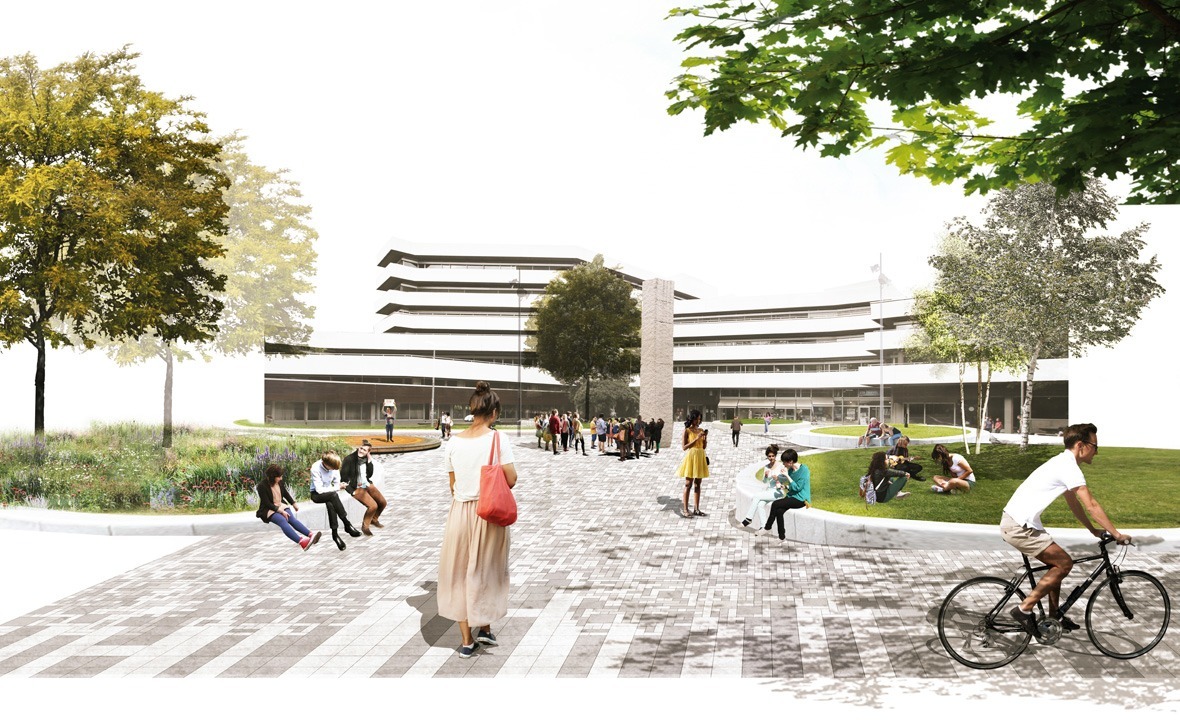 The planned underground bicycle parking is also seamlessly integrated into the design. By making use of the existing topography, the wide entrances permit unified light from all sides. The new kiosk will be a linchpin in the connection between north and south, and is furnished with a friendly, transparent core.